Well, the fifth installment of the Desert Island playlist tournament is being held on Interference, and of course, that means another entry from me that I'll post here. I'm especially keen to record this as I think it's my best Desert Island tracklist thus far. I'm still pretty proud of my DI II, III, and IV submissions, but I rarely listen to them nowadays and skip some sections. This one, I made back in May and I still listen to it regularly in its entirety. It has remained almost unchanged since I made it, which is a feat in itself as I'm very picky with my tracklisting's content and segues, but things just fell into place quite nicely.

It wasn't necessarily meant to be a Desert Island list when I began it. Tir Nan Og by Alcest is one of the most beautiful album closers I've heard, so I decided that it would be a good idea to use it as a closer for a suitably beautiful and atmospheric playlist along DI guidelines. It's titled "Beautiful Island" in iTunes. However, this was more for my own enjoyment, and to have something pretty atmospheric to play while I write essays, as that's the kind of music that I find best for the writing process (I particularly use Pure Reason Revolution's The Dark Third frequently). As it happened, I very quickly had a set of songs and a running order that I felt was good enough not just for my own personal use, but to enter in DI V.

I've found that in many places, the atmosphere of the tracklist reminds me of home in New Zealand. Different passages quite nicely represent different emotions that I feel towards the place, from the memories and nostalgia of childhood through my mixed impressions of it when I've visited recently to the experience of sitting by the sea on a cool, sunny autumn day. Hence the Kapiti Coast-themed title and cover art.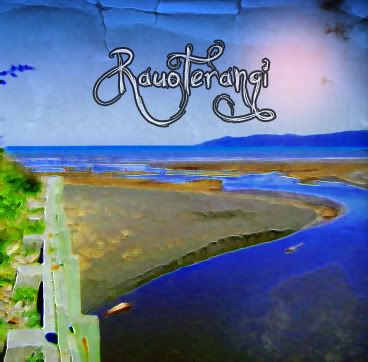 1. Pink Floyd - "Shine On You Crazy Diamond (Parts I-V)" - Wish You Were Here (13:40)
2. Eluvium - "An Accidental Memory In The Case Of Death" - An Accidental Memory In The Case Of Death (4:23)
3. 65 Days Of Static - "Radio Protector" - One Time For All Time (5:26)
4. Explosions In The Sky - "First Breath After Coma" - The Earth Is Not A Cold, Dead Place (9:33)
5. Solar Powered People - "Awhile" - Solar Powered People (4:21)
6. North - "Gripped & Numb" - Siberia (3:44)
7. Joy Division - "Atmosphere" - Substance (4:09)
8. The Cure - "Cold" - Pornography (4:27)
9. Camel - "Mystic Queen" - Camel (5:40)
10. Incredible Expanding Mindfuck - "Headphone Dust" - IEM (6:11)
11. The Verve - "Velvet Morning" - Urban Hymns (4:57)
12. Dream Theater - "Eve" - Cleaning Out The Closet (5:11)
13. This Will Destroy You - "Happiness: We're In This Together" - Young Mountain (8:36)
14. Pure Reason Revolution - "Aeropause" - The Dark Third (5:46)
15. The Shadows - "Kon-Tiki" - The Final Collection (1:55)
16. Goblin Mix - "The Water" - Goblin Mix (4:23)
17. U2 - "A Sort Of Homecoming" - The Unforgettable Fire (5:28)
18. Subterranean Masquerade - "Kind Of A Blur" - Suspended Animation Dreams (3:12)
19. Yndi Halda - "We Flood Empty Lakes" - Enjoy Eternal Bliss (11:44)
20. Caspian - "Loft" - You Are The Conductor (6:14)
21. Bailter Space - "Make" - Robot World (3:34)
22. Ride - "Nowhere" - Nowhere (5:22)
23. Crowded House - "Private Universe" - Together Alone (5:39)
24. No-Man - "Mahler" - Days In The Trees (7:03)
25. Porcupine Tree - "Half Light" - Lazarus single (6:20)
26. Passengers - "Beach Sequence" - Original Soundtracks 1 (3:31)
27. Alcest - "Tir Nan Og" - Souvenirs D'un Autre Monde (6:10)

Part I: http://www.sendspace.com/file/erxzbl
Part II: http://www.sendspace.com/file/nk9lws
Part III: http://www.sendspace.com/file/rezgur