It's that time again. Interference is running the fourth edition of the Desert Island compilation tournament. This is the first time the full tournament has not been run by me, and frankly I'm loving not having to worry about it. It's nice to be able to just sit back, make my entry, and watch everything else proceed. My entry for the third edition was meant to be the first quarter of a quadrilogy, and I have the remaining three quarters compiled to varying extents with the second quarter - i.e. this tournament's intended entry - essentially finished. However, I just don't feel as strongly about it now. I feel something new would be more appropriate. The quadrilogy may reappear in future tournaments, but for now, here's my stand-alone submission, complete with links to download it.

SO THIS IS PERMANENCE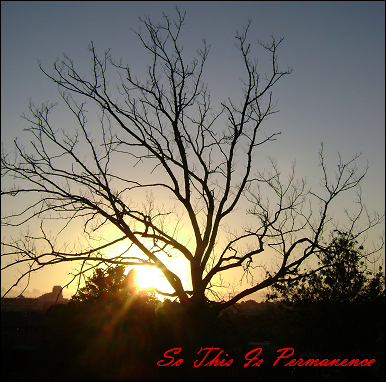 Tracklist:

1. Pink Floyd - "Time" - Dark Side Of The Moon (7:06)
2. God Is An Astronaut - "Suicide By Star" - All Is Violent, All Is Bright (4:38)
3. The Triffids - "The Seabirds" - Born Sandy Devotional (3:20)
4. Blackfield - "End Of The World" - Blackfield II (5:13)
5. Riverside - "Out Of Myself" - Out Of Myself (3:44)
6. The Terminals - "Uncoffined" - Cul-De-Sac (3:54)
7. Subterranean Masquerade - "No Place Like Home" - Suspended Animation Dreams (7:59)
8. Marillion - "Jigsaw" - Fugazi (6:49)
9. Green Carnation - "The Burden Is Mine ... Alone" - The Acoustic Verses (3:15)
10. U2 - "Wake Up Dead Man" - Pop (4:52)
11. Able Tasmans - "The Theory Of Continual Disappointment" - Hey, Spinner! (5:12)
12. Martin Phillipps - "Small Spark" - Sketch Book Volume 1 (4:24)
13. The Sisters Of Mercy - "Some Kind Of Stranger" - First And Last And Always (7:16)
14. Ride - "Dreams Burn Down" - Nowhere (6:06)
15. Joy Division - "Twenty Four Hours" - Closer (4:26)
16. Russian Circles - "You Already Did" - Enter (8:14)
17. The Sea, Like Lead - "Anticline/Syncline" - EP Split with Belegost (7:00)
18. Anathema - "Empty" - Alternative 4 (3:00)
19. Agalloch - "I Am The Wooden Doors" - The Mantle (6:11)
20. Arcturus - "Nightmare Heaven" - The Sham Mirrors (6:05)
21. Jesu - "Friends Are Evil" - Jesu (9:43)
22. Long Distance Calling - "The Very Last Day" - DMNSTRTN (11:05)
23. Sculptured - "Our Illuminated Tomb" - The Spear Of The Lily Is Aureoled (7:25)
24. The Cure - "Untitled" - Disintegration (6:26)
25. Porcupine Tree - "Collapse The Light Into Earth" - In Absentia (5:54)

Total length: 2:29:17

Links:
Tracks 1-12: http://www.mediafire.com/?2z4z0hhmjy3
Tracks 13-21: http://www.mediafire.com/?ndgtfv5mu94
Tracks 22-25: http://www.mediafire.com/?w5k18mojw19

So This Is Permanence is an artistic sketch of life's dark and bleak undercurrents. It exists in the shadows and on the margins. It is not designed to engage or to attract, but to create a desolate aesthetic through the use of various stylistic representations of the mournful, melancholic, and despondent facets of existence. It loosely traces a mental progression into an unfathomable abyss.

It can considered to be divided into two halves, tracks 1-12 and tracks 14-25, with the thirteenth track providing a link between the two. The first half is, relatively speaking, the more optimistic of the two. It opens with a recognition of the fleeting quality of life and proceeds through to track nine in a contemplative manner. It considers bridges burnt and laments things of meaning that have been lost or abandoned, be they friends, family, or lovers. This is the most reflective part of the tracklist and sets up the remainder. Tracks 10-12 seek light in the darkness and even for a brief moment despondency is found futile. However, through the intensity of track 13 and the progression into track 14, whatever sparks of light previously provided illumination are extinguished. Hope is consumed by the fire of the mental void and dreams burn down.

At this stage, there is nothing left but despair and isolation. The second half seeks to understand and explore this darkness. There is no escape, whether through the natural, the intellectual, the hallucinogenic, or even death. The ultimate realisation of despair is that death is as futile as life. The conclusion, the final three tracks, are the three I actually compiled first. Our Illuminated Tomb summarises what has preceded and is perhaps the most important track of the entire playlist. It brings the realisation of despair to its ultimate conclusion - the desire to cling to life or find finality in death misses the point. It is not about life or death; "it's not so much staying alive but staying human that's important." But by this stage, humanity has been lost in the mental abyss. In the final two tracks, everything simply fades away. Collapse the light into earth.

I should emphasise this tracklist is not meant to be autobiographical. I did not create this to chronicle any of my own experiences. Perhaps closest to the truth is that this is taking my own experiences to an extreme and nihilistic end that I would never dare explore in reality. The most autobiographical part is actually the cover, which is a photo I took of the sunset on 2 February 2008, the day my grandfather died. I feel that of all my tracklists, this one is the most emotionally intense. I recognise it will be wholly lost on some people. I have broken my "no metal" rule and simply used whichever tracks I believe will most suit my intended artistic aims. It is not intended to be aesthetically appealling - it is intended to be moving on emotional, intellectual, and philosophical levels, and as this is achieved through subjective experiences, some people will simply not have this experience or appreciate the bleak aesthetic. If it loses miserably in the tournament voting, then perhaps that would be only fitting for a tracklist about loss and misery!