Last month, I made an LJ post containing my entry for the Interference forum's "Prog Island" tracklist tournament. We're now about to commence the third installment of the full-blown Desert Island tournament, so I thought I'd again post my tracklist with explanatory details. This is a bit of a complex one and I think the second half is the best tracklist I have ever made. And yes, like last time, there are links.

This tracklist, which forms the first quarter of a grander quadrilogy and is split into two parts, was inspired by the following lyric:

Aotearoa, rugged individual
Glistens like a pearl at the bottom of the world
- Split Enz, "Six Months In A Leaky Boat"

I initially intended to merely showcase some New Zealand bands with one half a positive, uplifting musical experience, to emphasise the inherent beauty associated with desert islands, and the other half a more dark, introverted musical experience, to explore the bleak emotions - especially loneliness - that someone stranded on a desert island would feel regardless of the beauty around them. The tracklist quickly evolved into much more - some of it, especially the focus on Kapiti and Stewart Islands, was conscious, while other parts, notably the Egon and Rowena Verlaine story, were quite unconscious and I only noticed them late in the process of making the tracklist. I never intended to make a true concept album with a story, but everything fell into place so perfectly that the story's there. I will explain some of the thematic currents that flow through the work, but not all. I emphasise in particular that the Verlaine story is very open to interpretation and the alternate strands I provide are not exhaustive.

AOTEAROA: RUGGED INDIVIDUAL
(A quadrilogy of four quarters and eight parts.)

Kapiti Island: Glistens Like A Pearl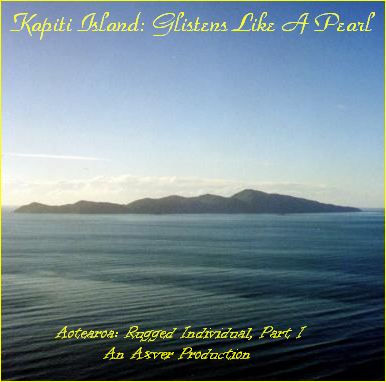 Link: http://www.mediafire.com/?9t2ydmox2yt
(Fully tagged as a compilation.)

Tracklist:
1. Dave Dobbyn (feat. Herbs) - "Slice Of Heaven" - Overnight Success (4:37)
2. Swingers - "Counting The Beat" - Counting The Beat (2:44)
3. The Shadows - "Shadoogie" - The Final Collection (2:25)
4. Sneaky Feelings - "Someone Else's Eyes" - Waiting For Touchdown (3:27)
5. Finn Brothers - "Part Of Me, Part Of You" - Everyone Is Here (3:29)
6. Neil Finn - "She Will Have Her Way" - Try Whistling This (3:56)
7. Pop Art Toasters - "Everyone's Gonna Wonder" - Pop Art Toasters (2:46)
8. Crowded House - "World Where You Live" - Crowded House (3:05)
9. Rush - "Dreamline" - Roll The Bones (4:37)
10. Split Enz - "Six Months In A Leaky Boat" - Time And Tide (4:20)
11. Clannad (feat. Bono) - "In A Lifetime" - Macalla (3:12)
12. The Edge - "Rowena's Theme" - Captive Soundtrack (3:56)
13. Transatlantic - "Bridge Across Forever" - Bridge Across Forever (5:31)
14. Able Tasmans - "Little Hearts" - A Cuppa Tea And A Lie Down (4:03)
15. Spock's Beard - "Waste Away" - Beware Of Darkness (5:21)

This is the more upbeat, positive portion of the tracklist and is a personal reflection on the Kapiti Coast region, where I spent the first ten years of my life. I have tried to evoke a number of feelings: the joy of childhood and energy of youth, the glory of a sunny late spring day on the Kapiti Coast, and also - in the latter portion - the feeling of permanently leaving one's home and of subsequent reflection and longing. It is, in a way, a mix of the feelings I had as a resident of the Kapiti Coast and the feelings I have subsequently had towards it as an ex-pat.

Stewart Island: The Bottom Of The World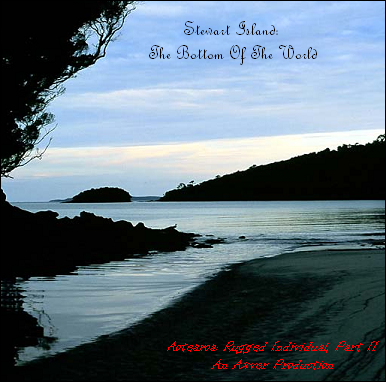 Links: http://www.mediafire.com/?eyyez1boc12 (first half) and http://www.mediafire.com/?9sugdttgqf3 (second half)
(Unfortunately, I forgot to tag this as a compilation beyond the song file names, so you might have to manually order the tracklist depending upon your media player. However, I'm sure this suits those of you who prefer the original tags to remain intact.)

Tracklist:

16. REM - "Feeling Gravity's Pull" - Fables Of The Reconstruction (4:51)
17. Anathema - "Fragile Dreams" - Alternative 4 (5:32)
18. Straitjacket Fits - "Bad Note For A Heart" - Melt (3:46)
19. Pink Floyd - "Cymbaline" - More (4:49)
20. Queen - "Death On Two Legs (Dedicated To...)" - A Night At The Opera (3:43)
21. Blackfield - "Epidemic" - Blackfield II (4:59)
22. Marillion - "Emerald Lies" - Fugazi (5:09)
23. The Bats - "North By North" - In Love With These Times (4:10)
24. The Chills - "Pink Frost" - Kaleidoscope World (4:00)
25. U2 - "Exit" - The Joshua Tree (4:14)
26. Joy Division - "New Dawn Fades" - Heart And Soul (4:48)
27. New Order - "Dreams Never End" - Movement (3:15)
28. The Cure - "One Hundred Years" - Pornography (6:40)
29. The Clean - "Getting Older" - Anthology (4:17)
30. The Verlaines - "Death And The Maiden" - Juvenilia (4:27)
31. Passengers - "One Minute Warning" - Original Soundtracks 1 (4:39)
32. Pure Reason Revolution - "Borgens Vor" - The Dark Third, European edition (4:17)
33. Wolverine - "A House Of Plague" - Still (6:52)
34. Porcupine Tree - "Drown With Me" - Futile EP (5:21)
35. The Verve - "Space And Time" - Urban Hymns (5:36)
36. Sörskogen - "Mordet i Grottan" - Online release (6:18)

Total runtime of both parts: 159:11 (2 hours, 39 minutes, 11 seconds)

This half is much darker. Stewart Island is located at the very southern reach of New Zealand, and below it is just a vast expanse of ocean and then Antarctica. The island is thickly forested and battered by miserable weather in the roaring forties, including ice-cold southerlies from the Antarctic. I have tried to evoke a sense of bleakness, gloom, cold, and most importantly, isolation. However, I have also tried to weave into this a sense of beauty, an appreciation of how spectacular, wild, and unspoilt this part of the world is. I have tried to show both sides of the isolation, the loneliness and the awe; both sides of the cold, the bitter chill and the frozen blast that lets you know you are alive. On a more personal level, as a continuation of the Kapiti Island theme, it also makes manifest my feelings of isolation from my home and the knowledge I will likely never return, tinged with appreciation for simply being from there in the first place. Fundamentally, this part is a dreary death lament containing an appreciation of living, and an acceptance of the tension present.

The Verlaine story

I shall now examine the playlist more in depth, to explain a few ways of interpreting the story of Egon and Rowena Verlaine that runs through the tracklist. In the smallest of nutshells, it is a story of two of the earliest settlers of New Zealand who arrive in a beautiful country, only for it to turn sour. It is set prior to the signing of the 1840 Treaty of Waitangi, so roughly in the 1820s and 1830s. Anyone who is not
screwtape2 or
screendoor3 receives an imaginary prize if they figure out from where I got the names Egon and Rowena Verlaine, especially Egon.

1. Dave Dobbyn (feat. Herbs) - "Slice Of Heaven" - Overnight Success (4:37)
2. Swingers - "Counting The Beat" - Counting The Beat (2:44)
3. The Shadows - "Shadoogie" - The Final Collection (2:25)

This passage presents an introduction, both to Egon and Rowena for the listener and to New Zealand for Egon and Rowena. It is upbeat and fun: everything is new and a whole landscape/soundscape is unfolding, awaiting exploration.

4. Sneaky Feelings - "Someone Else's Eyes" - Waiting For Touchdown (3:27)
5. Finn Brothers - "Part Of Me, Part Of You" - Everyone Is Here (3:29)
6. Neil Finn - "She Will Have Her Way" - Try Whistling This (3:56)
7. Pop Art Toasters - "Everyone's Gonna Wonder" - Pop Art Toasters (2:46)

Egon and Rowena are newly married and settle on the Kapiti Coast, at present day Raumati Beach. It is a beautiful spot with fresh water, firewood, and potential for farming, and they are very content. This passage is a celebration of their love and contentment. It's about as much of that sort of theme that I can stand before throwing a spanner in the works!

8. Crowded House - "World Where You Live" - Crowded House (3:05)
9. Rush - "Dreamline" - Roll The Bones (4:37)
10. Split Enz - "Six Months In A Leaky Boat" - Time And Tide (4:20)

Time passes, and World Where You Live illustrates that while the love and contentment is certainly still prominent, inklings of doubt have crept in. The next two songs reveal Egon's response: the lust of adventure that brought him to New Zealand in the first place has reawakened within his soul and he wishes to explore more of the untouched new land. After all, he's young and wants "to sail around the world ... living on the sea", and he knows he's "only immortal for a limited time".

11. Clannad (feat. Bono) - "In A Lifetime" - Macalla (3:12)
12. The Edge - "Rowena's Theme" - Captive Soundtrack (3:56)
13. Transatlantic - "Bridge Across Forever" - Bridge Across Forever (5:31)
14. Able Tasmans - "Little Hearts" - A Cuppa Tea And A Lie Down (4:03)
15. Spock's Beard - "Waste Away" - Beware Of Darkness (5:21)

Rowena has her doubts and fears: she is happy on the Kapiti Coast, and she's already sailed this far and does not wish to keep travelling. Nonetheless, she agrees to Egon's plan with considerable reluctance and feels a profound sense of sorrow as they sail away from the home she had come to deeply appreciate.

Egon tries to quell whatever doubts he has - after all, he doesn't wish to waste away. On a fine day, they sail out past Kapiti Island and into the Cook Strait that separates the North and South Islands. Egon plans to head through the Strait and down the Marlborough coast to Canterbury, where he has heard there are plains at the foot of spectacular mountains. But ...

16. REM - "Feeling Gravity's Pull" - Fables Of The Reconstruction (4:51)
17. Anathema - "Fragile Dreams" - Alternative 4 (5:32)
18. Straitjacket Fits - "Bad Note For A Heart" - Melt (3:46)
19. Pink Floyd - "Cymbaline" - More (4:49)

Everything goes tragically awry. The weather changes suddenly. Vicious squalls of wind and torrential rain batter the Verlaines' boat and they are blown off course, away from the Cook Strait. Egon wishes to shelter in Golden Bay, but the wind unexpectedly changes direction and the Verlaines find themselves sailing down the lonely, almost completely uncharted and uninhabited West Coast. The beauty of the wilderness is now terrifying, and persistent wild weather pushes them right down to Fiordland at the very bottom of the South Island. Egon knows a settlement, Invercargill, is somewhere nearby to the east but is not precisely sure where. He attempts to sail across the southern end of the South Island, but it ends in tragedy as he and Rowena are shipwrecked on the uninhabited western coast of Stewart Island, south of Invercargill.

(By the way, check out that transition from track 19 to 20 and through to 21! That was purely an accident of shuffling other songs around, and yet I think it's the best segue on the entire album.)

20. Queen - "Death On Two Legs (Dedicated To...)" - A Night At The Opera (3:43)
21. Blackfield - "Epidemic" - Blackfield II (4:59)
22. Marillion - "Emerald Lies" - Fugazi (5:09)

Rowena is at her wits' end by this point and unleashes her full fury on Egon for taking her away from her beautiful home on such a foolish trip of exploration. Egon responds with just as much vitriol, blaming Rowena's comparative lack of sailing experience. This fight, which has been simmering since Anathema's Fragile Dreams, completely boils over and explodes at this point.

23. The Bats - "North By North" - In Love With These Times (4:10)
24. The Chills - "Pink Frost" - Kaleidoscope World (4:00)
25. U2 - "Exit" - The Joshua Tree (4:14)

Egon loses all self-control and responds with violence. As the rain pours down and an icy southerly torments the coast, he viciously lashes out at Rowena. It is here that two of the story's most prominent strands split.

Strand 1: Rowena, exhausted, is unable to muster enough strength to stop Egon. Before he even fully realises what he is doing, he kills Rowena in a frenzy and hurls her body into shallow water nearby for the sea to bury.

Strand 2: Unwilling to fight, Rowena correctly assumes that Egon is too blinded by rage and is not thinking rationally, so she plays dead. The trick works and he kicks her aside into shallow water before staggering away. Rowena, although injured, is in a good enough condition to swim away. Egon, when he returns to his senses, thinks the tide has simply carried her body away.

26. Joy Division - "New Dawn Fades" - Heart And Soul (4:48)
27. New Order - "Dreams Never End" - Movement (3:15)
28. The Cure - "One Hundred Years" - Pornography (6:40)

Both strands: When Egon comes to his senses and realises what he has done, he plunges into the very depths of despair. He feels like his soul is being tortured and that the act has left him a spiritually dead man. The weather only serves to reinforce the impression of a personal hell for a miserable, murderous wretch. He is at the bottom of the world, all alone except for a virulent guilt gnawing away at his innermost being.

29. The Clean - "Getting Older" - Anthology (4:17)
30. The Verlaines - "Death And The Maiden" - Juvenilia (4:27)

Both strands: As time passes, Egon goes completely mad. As he grows older every day without Rowena, he becomes delusional and starts to imagine that his own suicide will reunite him with her - or even bring her back to life in a salvific act.

31. Passengers - "One Minute Warning" - Original Soundtracks 1 (4:39)
32. Pure Reason Revolution - "Borgens Vor" - The Dark Third, European edition (4:17)
33. Wolverine - "A House Of Plague" - Still (6:52)

Both strands: With no grasp on reality, Egon decides to find Rowena - or something, anything. He staggers blindly through the dense Stewart Island wilderness and becomes hopelessly disorientated and lost, "a lonesome soul ... what a way to go". He eventually finds the coast again and staggers onto the shoreline near the eerie but intriguing black hole of a cave. At this point, the two strands split again.

Strand 1: In a fit of delusion, Egon encounters Rowena's ghost. She rants and rails against him, convicting him of every wrong he has ever done. The delusion is the most confronting and horrific he has had and it destroys the last tatters of his mind.

Strand 2: Rowena, alive and relatively alright, emerges from her home in the cave and confronts Egon. This is no delusion, and like above, her ranting and railing completely destroys him.

34. Porcupine Tree - "Drown With Me" - Futile EP (5:21)
35. The Verve - "Space And Time" - Urban Hymns (5:36)
36. Sörskogen - "Mordet i Grottan" - Online release (6:18)

"Mordet i Grottan" is Swedish for "murder in the cave".

Strand 1: Egon staggers into the cave, suicidal. He has no will to live. He has lost his love, he has lost his mind, he has lost all contact with civilisation; already internally dead, Egon takes the final step and commits murder in the cave - of himself.

Strand 2: The two continue to argue, and Rowena, now the stronger of the two, physically hauls Egon into the cave. The fight does not stop; they scream at each other, yell about lost love, lost opportunities, lost lives. The fight becomes increasingly physical and bloody. Murder again lingers in the air. At this point, you, the listener, can follow almost any ending: one kills the other, one kills the other and then commits suicide, one escapes the other and they both live, or they give up out of exhaustion.

For the record, for the upcoming Parts III-VIII to make sense, Egon and Rowena probably need to either both live or both die. If one lives and one dies, the final two parts could potentially be confusing; it would still work, but it would be a stretch.

Morbid, eh? Just remember: I did not intend to create this! The story pretty much wrote itself. I did very little tweaking to make it work, and even left a couple of parts in such an order that they serve my original goals better than they serve the story as I most wish to evoke soundscapes and emotions, not story concepts.

Well, I hope you enjoy it.