It would appear that Bono has been sending out very poorly designed advertising leaflets for his current business venture!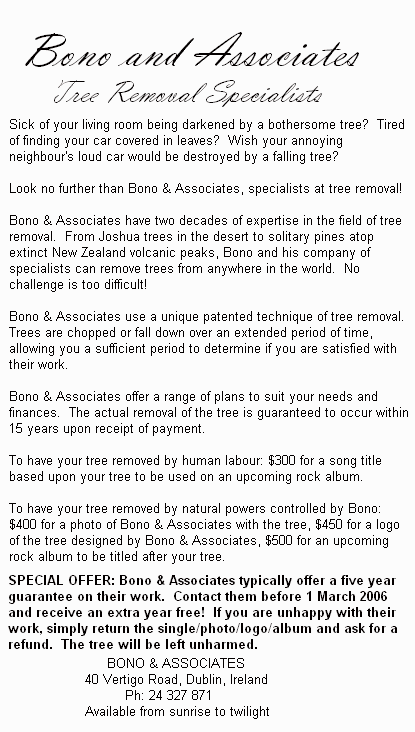 Every New Zealander can attest that Bono & Associates get the job done, so give them a call! The leaflet reveals an interesting secret if you pick up the phone.

Woo!

Now, to other news. This evening, I timed the walk to university and it's thankfully not particularly long, nor is it strenuous. However, I did this in the relative cool of twilight and I'm a bit nervous about what it'll be like in the heat of the day. Let's hope it's not too extreme. Summer's over in a little over a week anyway, so things should start cooling down. How I long for winter!

This coming week is orientation week, so I've been working out my timetable of classes to attend. Looks like Tuesday's going to be a mightily busy day, but I think I won't need to go in on Monday or Friday. Classes themselves commence on the 27th. I'm tremendously excited! Sometime in the next week, I'll make my textbook purchases (let's hope I can find some good secondhand deals!), and the part I love about doing History and International Relations is that these books sound like ones I'd like to read anyway. Hurrah!

Also, nice to see the Hurricanes showed the Western Force what's what. Two wins out of two! I'm liking this season thus far. Let's just hope the Hurricanes keep the momentum going.