Well, today began painfully stressfully and then nicely worked itself out. I initially totally failed to get tickets to either of the second shows in Auckland or Melbourne - all I had to show for my efforts was a sneaking suspicion that had I refreshed Ticketmaster's website any more, I would've got RSI. However, one of my friends managed to do awesomely and I've now become the recipient of the extras they bought, so I'm thoroughly thrilled!

So I'm blatantly stealing images from austadiums.com/worldstadiums.com, and have so little subtlety about it that I'm even including this note.

Naturally, I'm going General Admission to all of these so I'll be somewhere on the field. Look for the white 'fro if you're going.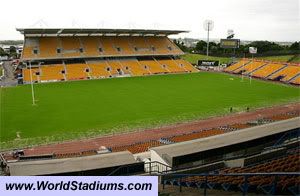 Venue: Ericsson Stadium, Auckland, New Zealand.
Dates: 17 and 18 March 2006.
Capacity: It's 25,000 for sports, but apparently both shows have sold 38,000 tickets. Goes to show that even when you block off one end, the amount of people you can pack onto the field can more than make up for that loss of capacity.
Last played the city: 4 December 1993, at Western Springs Stadium.
Notes: Let us all hope, pray, and offer sacrifices to any convenient deity so that One Tree Hill is played live in full for the first time since 9 January 1990. Come on, it's 20 years since Greg Carroll died and inspired the song, and the band's playing two shows in the city home to the landmark that gave the song its name.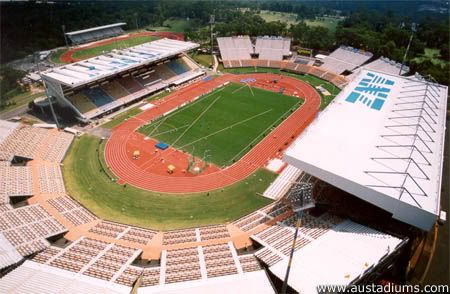 Venue: Queensland Sports And Athletics Centre, Brisbane, Queensland (alternatively known as Queen Elizabeth II Stadium or ANZ Stadium).
Date: 21 March 2006.
Capacity: 49,000 for sport, and I imagine it'll be about the same for the show, if not a little more. Not much is blocked off at the end by erecting the stage.
Last played the city: 25 February 1998, same venue.
Notes: U2 played this venue in 1998 for Popmart and sold a measly 17,500. I didn't think it would sell out this tour, or if it did, crawl there in the new year. I sure was wrong in a big way, as the entire show sold out within hours! I couldn't believe it - U2 tripled their sales in Brisbane, even though they haven't had a physical presence here in eight years!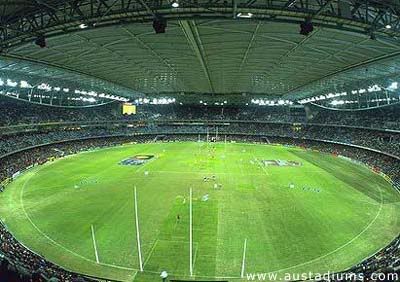 Venue: Telstra Dome, Melbourne, Victoria
Dates: 24 and 25 March 2006
Capacity: I believe its record concert attendance is a tad over 56,000.
Last played the city: 21 February 1998, at Waverley Park.
Notes: These two shows should be really cool if they decide to keep the roof closed. The two roofed European stadiums that they played in the middle of this year (Gelsenkirchen and Cardiff) closed their roofs, I believe, so that's a good sign. Seeing the stadium setup essentially indoors should make it all the more awesome.

Yes, I'm going to multiple shows. Although I'm not as pessimistic as those who believe U2 will never tour Australia again (though I do believe this is likely the last New Zealand visit), who knows just when they will next be here, so I figure I'll seize this opportunity and have a blast this tour. If the next tour doesn't come down here - and it looked a while doubtful that this tour would come - I very much doubt I'll have the financial resources to fly up to the Northern Hemisphere. I must say I'm quite glad that the shows I caught back in May were the arena shows while we're getting the stadium setup. It'll be fun to see how they compare.

As a matter of fact, if I do happen to hear One Tree Hill live, I'm not even sure I'll need to see another tour because nothing could top that.