So, it's the 24th of September. A year ago today, the release of Vertigo caused me to make a phone post that was the focal point of the first annual Axver Public Humiliation Day. Well, I couldn't miss the occasion this year, especially not after the enthusiastic response to my rendition of Exit. The Exit single required an album, and an album it's got!

The complete album, entitled New Zealand > You by Axver and the Quiet Minority, is right here!

FRONT COVER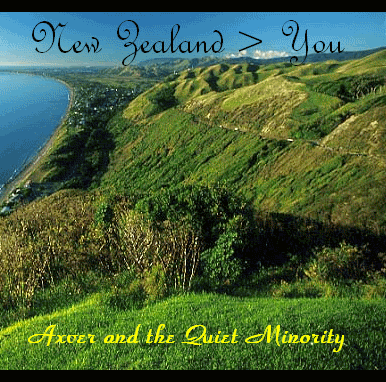 (The image is of the Kapiti Coast, where I come from.)

BACK COVER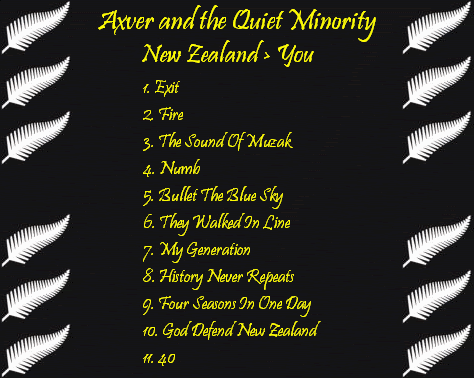 CREDITS
Axver and the Quiet Minority are: André Axver (vocals, and whatever else you detect in the mix), the Quiet Minority (nothing)
Produced by: No-one, each track recorded in a single take and released raw
Recorded: Mid-September 2005 at Overloaded Computer Studios, Axver's Room, Australia
Lyrics: André Axver, except for: everything
Music: The Quiet Minority
Tracklisting:
1. Exit (U2)
2. Fire (U2)
3. The Sound Of Muzak (Porcupine Tree)
4. Numb (U2)
5. Bullet The Blue Sky (U2)
6. They Walked In Line (Warsaw [pre-Joy Division])
7. My Generation (The Who)
8. History Never Repeats (Split Enz)
9. Four Seasons In One Day (Crowded House)
10. God Defend New Zealand (Thomas Bracken)
11. 40 (U2)
Genre: Axver and the Quiet Minority was originally a progressive classical punk-pop band, but a quick chat with WinAmp persuaded André AXVER that k-pop sounded far too Korean for a guy who hasn't a drop of Asian blood in him or influence in his music, so he changed the band's direction and their music is of the progressive classical pun genre.
Band history: Taking their name from a post on the Interference forum, Axver and the Quiet Minority is a new band proud of its Kiwi heritage. This is celebrated on their new album not just through the title but through a performance of the New Zealand national anthem - in both Maori and English. The band also cover a couple of favourites by home-grown acts and a few of their foreign favourites, including the lead single, Exit. Little is known about who comprises the Quiet Minority as they maintain their silence even on the album, but Axver has no inhibitions about expressing himself, even if he chooses to use his terrible singing voice.

Quite frankly, I think this is less embarrassing than the famous phone post.