About a week ago, a group of us consisting of Kate (
purplicious), Caroline (
stolidlimeberry), Erin (
penguinpete), Kate's brother Jonathan, and Jonathan's friend Taylor, and myself went bowling. Of course, with a group of people like this, it wasn't going to be long before hilarity ensued. What did we do? We named the pins. Yes, we actually named the ten pins. And our names for the pins should not be taken as an offence by anyone who's a fan of the people, as it was all just a bit of lighthearted humour.

It all started when one particular pin continued to refuse to fall. I nicknamed it the George Bush pin as it just would not go away - it kept standing stubbornly. This led to a neighbouring pin acquiring the name of Dick Cheney, and from there, we went on to name each pin. It really did add a hilarious and fun new element to the game!

Here is a diagram of the pins that
stolidlimeberry drew while we were there, complete with Taylor's drawings.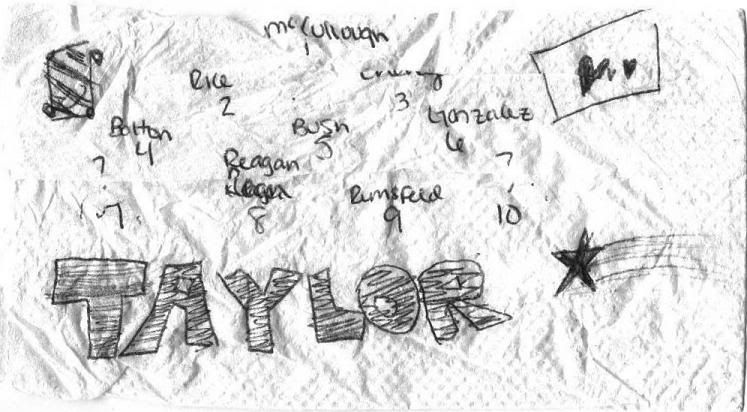 1 - David McCullough, author of such brilliant works as John Adams and Truman that the folks here despise (this guy has also written a gigantic history of the Brooklyn Bridge - I have to wonder how one could write a book so thick about a single bridge. Are there chapters devoted to the various species of birds that have used it as a perch?)
2 - Condoleeza Rice, Secretary of State
3 - Dick Cheney, Vice-President of the USA
4 - John Bolton, controversial nominee to be US ambassador to the UN
5 - George W. Bush, President of the USA
6 - Alberto Gonzalez, Attorney General
7 - Wild pin (you could name it whoever or whatever you desired, such as Ashlee Simpson, Kings Of Leon, Kim Beazley, sodium, and various others ranging from the expected to the insane)
8 - Ronald Reagan, former US President
9 - Donald Rumsfeld, US Secretary of Defence
10 - Wild pin, as per 7

That was probably the most amusing bowling adventure I have been on. Have a good one, folks!