Remember this questionnaire? If you haven't answered it yet, go ahead and guess before reading the answers.

1. What's my favourite U2 album? The Unforgettable Fire, closely followed by How To Dismantle An Atomic Bomb and then The Joshua Tree. Interesting that my two favourite albums were released twenty years apart ...
2. What's my least favourite U2 album? Achtung Baby or All That You Can't Leave Behind.
3. What are my favourite U2 songs? Where The Streets Have No Name, Bad, The Unforgettable Fire, One Tree Hill, City Of Blinding Lights, New Year's Day, 11 O'clock Tick Tock, Gloria.
4. What are my least favourite U2 songs? Ultra Crap Violet. Not very keen on Red Light either.
5. Who is my favourite member of U2, and do I find them attractive? [Or the modified Axver version: Who is my favourite member of U2, and do I find them intelligent?] Edge, Mister Genius himself.
6. Who is my least favourite member of U2? Larry, simply because I don't know as much about him as I do about the other three.
7. What's my favourite U2 era? Lovetown! No band will ever beat that. U2 were on fire. Untouchable. My purpose as a bootleg collector is to possess every show from that tour.
8. What's my least favourite U2 era? ZooTV or Popmart.
9. How long have I been a U2 fan? Grew up with U2 as an important musical influence, bought the Best Of 1980-1990 when it was released in 1998, made it my life mission to see U2 live in either 1998 or 1999, received All That You Can't Leave Behind for Christmas 2000, and when I was given the Best Of 1990-2000 for Christmas 2002, just hearing Gone once had me totally converted to absolute U2 fanaticism.
10. How many times have I seen U2 live; when and where? The first time will likely be on 7 March 2005 in Atlanta.
11. Do I collect U2 bootlegs? Uh ... YEAH. A LOT.
12. What U2 fan forums do I frequent? Outside of LJ, Interference. Haven't been to U2 New Zooland in a couple of months and anywhere else in an even longer length of time.
13. Do I mostly listen to U2 or am I equally into other artists? What are these other artists of whom you speak?
14. Have I met anyone in U2? Does possessing Bono's autograph count?
15. What am I like on U2 trivia? Can I blow my own trumpet and say that you don't beat me when it comes to setlist trivia?

Today, Holly was up from Sydney, so she came around to visit and we had a great day that happened to involve a trip to a couple of book shops at one point.

The good news: I summoned up the courage to ask if they were employing any new staff.
The bad news: Neither were taking any applications.
The great news: I did extremely well buying books. I was particularly impressed at QBD, where I purchased two extremely marked-down books, only to find the machine read them wrong and I paid even less than I expected. Twelve dollars for two brand new books is, in my opinion, a wonderful find.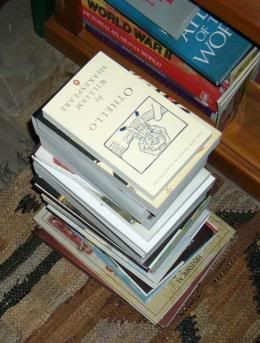 Books underlined are those I purchased today. Thanks to book vouchers, I only spent nineteen dollars in total.
- Title, author
- 1421: The Year China Discovered The World, Gavin Menzies
- Another Time, Another Place: U2, The Early Days, Bill Graham
- Armed Struggle: The History Of The IRA, Richard English
- Avenger, Frederick Forsyth
- Foreign Fields: The Story Of An SOE Operative, Peter Wilkinson
- Historical Atlas Of The Crusades, Angus Konstam
- Mere Christianity, C. S. Lewis
- Mythology: A Visual Encyclopaedia, Jo Forty
- Othello, William Shakespeare
- Russia: Experiment With A People, Robert Service
- The Adventure Of English: The Biography Of A Language, Melvyn Bragg
- The Best New Zealand [Short] Fiction, Volume 1, edited by Fiona Kidman
- The Brothers Karamazov, Fyodor Dostoyevsky
- The Harvest Of Sorrow: Soviet Collectivisation And The Terror-Famine, Robert Conquest
- The Innocence Of Father Brown, G. K. Chesterton
- The Napoleon Options: Alternate Decisions Of The Napoleonic Wars, edited by Jonathan North
- Winston's Folly, Christopher Catherwood
- World History, edited by Patrick K. O'Brien
- X-Treme Latin: All The Latin You Need To Know For Surviving The 21st Century, Henry Beard

I'm looking at these three for my birthday:
Pol Pot: Anatomy Of A Nightmare by Philip Short [According to Amazon.com, it's not out yet, but it's very much on the shelves at my local bookstore and looks extremely good.]
Gulag: A History by Anne Applebaum
The Gulag Archipelago: 1918-1956 by Alexsandr Solzhenitsyn

Yes, I have a lot of reading to do. And now I have found myself searching through Amazon, looking at all kinds of books and feeling like a total book generork. But to change subjects ...

It's me. Sitting in front of a fan you can't see, because it was hot today.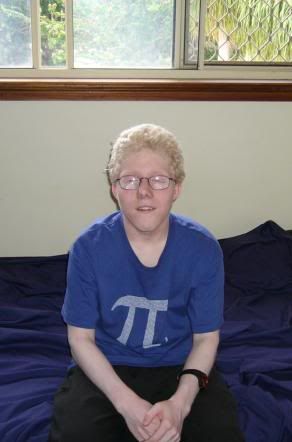 Holly and I.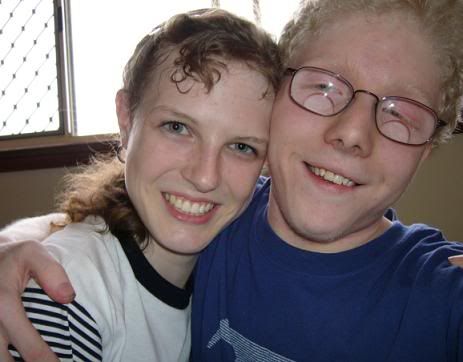 Tie and Pi! I think Holly was a little baffled when I asked her to take a photo of me wearing a tie. Well, I'm sure a few of you will find this to be a tremendous laugh.