You know you want to have a shot at this questionnaire from yesterday's entry.

It was rather 'fun' trying to take this photo. At least the flash on the camera is delayed. I think I did quite well.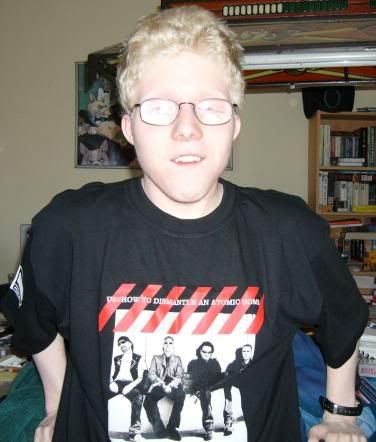 Right now, I am watching footage and reading reports of the Asian earthquake/tsunami disaster, and I am simply speechless. I hope all of you are paying close attention to this because it is likely to be the worst natural disaster in our lifetimes. This disaster is incomprehensible. SBS, the network I consider to be the most reliable for news in Australia, is reporting a death toll approaching seventy thousand and it's only going to grow. As an illustration of that, the Indian-owned island of Great Nicobar was closest to the epicentre of the earthquake and remains out of contact. It is home to forty-five thousand people. Yes, you read that correctly, forty-five thousand people on one island alone are unaccounted-for.

The overload of information and statistics is hard to digest. I still haven't got this through my head. As part of Geography and Modern History, I dealt with disasters of massive magnitudes, assessing problems and devising solutions, so if anyone should be capable of grasping this information and making head-or-tail of it, it would be me. And yet, I am simply stunned and staggered, left speechless by what I see on TV and read on the Internet. The horror of this is beyond description or comprehension. There have been deaths from Indonesia in southeastern Asia to Kenya in Africa! The destruction is so widespread that it is unbelieveable.

The stories are beyond horrific. An entire trainload of 800 people in Sri Lanka was killed when the waves swept the train off the rails. I watched an Indonesian man on the news desperately hoping to find his family, his wife and six children, who had been swept away. I read of a woman in India searching for her ELEVEN children and about a Finnish boy flying home without any of his family. That's only scratching the surface of the devastating stories of people who have lost everything - spouses, children, houses, and possessions. What would you do? Really, what could you possibly do? One minute, you're sitting in your house eating a meal with your family, the next minute, all around you has been taken by the waves. Wouldn't you wish you had been taken too? This is beyond tragic. This is occurring on all sides of the Indian Ocean. The same incomprehensible disaster, impacting person after person.

From what I have read, the waves that struck Sri Lanka were 10-15 metres high. Further to the west are the Maldives, an island group where the highest point is 2.5 metres above sea level. I am not doubting the reports of the entire island group being submerged. Some islands still have not been contacted. In other countries, the destruction was just as severe, with entire villages vanishing. There are hundreds, probably thousands, of foreigners dead, many killed when luxury resorts in Malaysia, Thailand, and Sri Lanka were obliterated. In countries around the Indian Ocean, bodies are lying in the streets, either uncollected or because there is simply no room in hospitals and morgues to store them. I just can't come to grips with this destruction. I've never seen anything quite like it. I've seen cities ravaged by earthquakes - remember the 60,000 who died in Iran? - but I have never seen a disaster kill thousands on either side of an ocean.

The threat isn't over, though. The final death toll of the earthquake/tsunami is likely to double as a result of diseases, infections, and a lack of shelter. Over a million are homeless and infrastructure has been torn to shreds. This kind of disaster just continues. We're looking at deaths of well over 100,000. Just about everything pales in comparison to this. I cannot believe what we are witnessing. If you can spare any money at all, donate it. I hear the Red Cross and Oxfam have the best systems already in the region. Just ... help these people out. This tragedy is so overwhelmingly devastating.

And truly, that's enough for now. I've had enough. This is so enormous and my mind is reeling in horror and disbelief.

I can't believe the news today
I can't close my eyes and make it go away
[...]
And it's true we are immune
When fact is fiction and TV reality
Today the millions cry
We eat and drink while tomorrow they die ...
- U2, Sunday Bloody Sunday

Freakily apt.