It is very public knowledge that I am a U2 fanatic. I have, however, been a fanatic of something else for much longer - to be precise, as long as I can remember. I cannot think of a time in my life when I have not been a fan of railways. I grew up watching Thomas The Tank Engine, I had elaborate Tomy train layouts throughout my house as a child (they were a sort of model railway for children), I have a collection of HO (that's 1:87 scale, [not quite] Half of O (1:48), 'aitch-oh') models and trains that I intend to one day turn into a proper model railway, and so forth.

Put quite simply, I'm a total ... nerd, or dork, or geek. I've no idea what the difference is between those terms any more and people use them synonymously. I suppose I'm a generork.

The earliest drawings I can remember doing were of trains. As I grew, I drew them constantly, and as I fell in love with the world and atlases, my drawings were more predominantly maps of rail networks in fictitous countries and diagrams of model railways. I read magazines about real and model railways religiously and a whole row of my bookshelf is devoted to books on trains, mainly those in New Zealand (ask me anything about Kiwi trains and I probably know or can find the answer very quickly). I had always wanted a model railway and had we stayed in New Zealand, my mother would have permitted me to build one in our disused garage. Unfortunately, things were not to work out that way, and while I lived in Australia, most of my plans were purely dreams. By about fourteen, I did start to become more serious and at the ages of fifteen and sixteen, I even drew some plans for a railway that could be constructed in my bedroom, but then we moved in with Alan and I've had to scrap the idea of any sort of layout. I probably won't be able to build one until well after university.

I have always lived near railways, even though no-one in my close family has ever worked on them. Right now, I live the furthest I have ever been from a railway and I'm not ten minutes from the nearest station! I don't know if that really has anything to do with why I like trains as I think I might not have noticed these railways if I weren't so keen on them ... I guess this is just one of those fascinations from my toddler years that has lived on to the present day. I am one of the biggest supporters of further expansion of railways (and tramways) and I have long wished that trains were in more locations. Indeed, I started to create an alternate reality, which I'll portray in greater depth below.



Expressions of the fanaticism



The model railway planning!

I'm not going to display the picture on this page as it is pretty big. Instead, I shall link the interested to what I consider to be my best plan ever. I've done plenty of plans that are far more elaborate, but that one was wholly drawn to scale and capable of being constructed in my old bedroom. Plans of model railways are all I am capable of drawing.

I wish I could build that railway ...

Photography!

An Electric Multiple Unit (EMU) arriving in Porirua station sometime a few years ago (late 2001, I think), travelling from Paraparaumu to Wellington.



An EMU pulling into Roma Street Station, Brisbane, probably in 2001 or 2002.



From another part of Roma Street: in the foreground, an EMU; in the background, a high speed Tilt Train.



A shunt service pulling into the Rocklea/Salisbury yard in the south of Brisbane.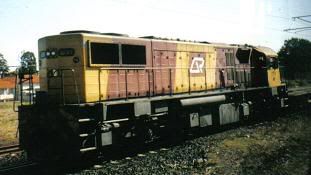 There's no way this disgrace is art. A vandalised wagon in the Rocklea/Salisbury yard.



From out the back of my old place, near the terminus of the Robina suburban line.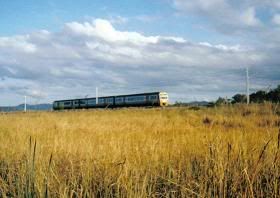 Looking the other way, from February 2001. At the height of the flood, the water was up to the small white sign below the front of the EMU.



The alternate reality!

I have a book on the history of all the railway lines that have been constructed in New Zealand, and when I was younger, I read it a lot. I often wished that more lines had been built and that society was more focused on trains, and when I discovered a map of the Kapiti Coast (the region just outside of Wellington where I grew up) with a map on the reverse side showing even the tiniest localities in the southern quarter of the North Island, something clicked inside my head. What came out was a Word file - a work that, if I ever return to it, is still in progress - of approximately 115 pages, detailing railway line after railway line of this alternate reality. Although it was intended to cover all of New Zealand, I have not even managed to detail a quarter of the North Island yet.

This alternate reality is quite incredible. It's amazingly intricate and detailed, with railways just about everywhere you can imagine. It's also totally absurd. It's one of the most ridiculous and pointless creations I could have possibly made. You wouldn't believe the bizarre stuff that's in there. I included a railway line to my primary school! In late 1945, a line "was built off the Te Horo South Branch along Morrison Road to help fell a clump of trees suitable for use at Christmas," and the Te Horo South Branch itself was "no more than a spur [to a pit of ballast] honoured with the title of branch." My favourite lines were used even more heavily than is possible - "Trains [to my imagined Kapiti Coast International Airport] ran every seven seconds between 7.00am and 9.00pm," "[the railway line to my school was somehow so busy that] trains and trams left literally end to end," and I even built a short spur to the public swimming pools in my home town. It's complete madness. Intricate, complete madness.

If anything ever sealed my case for being a geek, nerd, dork, or whatever other term you care to throw at me, this is most surely it.