My computer just tried to pull a dying act on me. Now, my computer and my Internet connections are my lifelines. If either go down, my ability to function falls to pieces very quickly. It's not a pretty sight. I start yelling at the computer, start acting frantically, pace around my room, panic, look like a madman, and so forth. Yes, I'm an addict. Anyway, my computer just tried to do its best impression of a stuffed computer (I know exactly what it did and it was a false alarm, but I didn't know that then). So what did I do? Well, I leapt out of my chair, acted all frantic, did what I could to alleviate the problem ... and prayed. I actually prayed that my computer would load. Yes, this is the point where you think "WTF?" and look at me like I'm a bloody moron.

It gets worse.

I suddenly realised the complete stupidity of this, and started ranting in my mind, fuming about how pathetic it is that my faith is little more than a tool I occasionally use to my advantage to get something out of God, or if I'm in a good mood, I use it to feel all intellectually accomplished. I started really going at it, thinking about how dismal and stupid such a position is, and I don't really have a faith at all, just an intellectual acknowledgement, and then I realised something.

I wasn't praying. Oh no. I WAS WRITING A LIVEJOURNAL ENTRY IN MY HEAD AND TRYING TO FOOL MYSELF INTO THINKING IT WAS ALSO A PRAYER.

The more I raged about that, the more the 'entry' continued. The more I tried to assess the problem, the more I could see the Update Journal page and the more I worked on my entry. It descended into such depths of stupidity and prayer-abuse that I gave up and came to write an entry.

What does that say? I ask you, what does that say?

It's pathetic, it's absolutely pathetic. Somewhere along the way, I tripped over an Internet cable, landed in a computer chair, and never got going again. To me, real life is something you bit torrent, the world is an application that I really enjoyed deleting, and God is the almighty force that sustains my Internet connection. I think that makes my ISP God. Wow. I pay God $80 a month. I have service e-mails from God. My old ISP is still trying to bill me for a service I no longer have, so I am being tormented by Satan for converting to God.

Though this isn't a joking matter. It's a pathetic matter, not a joking manner.

Damn, I piss myself off sometimes. Really, I just want my faith back. Some emotions would be nice too. I realised earlier today I'd lost them too. If you've seen my faith and emotions wandering lost, please point them in the right direction. I'm sure they miss their father. If they complain about persecution via U2 music, tell them I promise to play a broader variety of music. Just send them home to their Dad.

I sound like a frigging nutcase.

--- 7:24pm ---

The standings at the end of last week in the first division are quite beautiful. All teams with names ending in 'land' are coming last, bwahaha!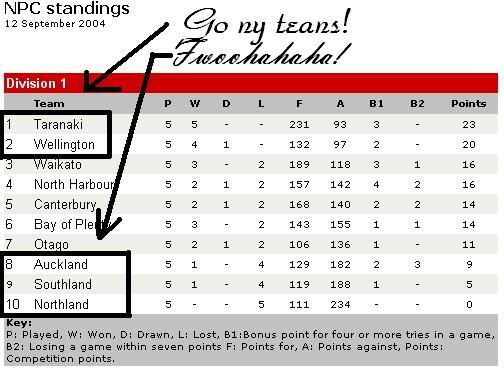 Go Wellington!