Alright folks, we have a dispute on our hands. Apparently I don't know my own hair colour. I say it's white (though admittedly, the sun's bleached it and it's now more blonde), but I've just been told that it's red, could pass for orange, but is certainly not white. So I'm going to put this poll to all of you, so that the dilemma may be solved.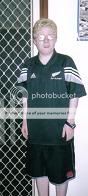 And I'm wearing my wonderful All Blacks shirt, no less.



That's me on the RIGHT, people. The person on the left is my mother.

Now that you can make an informed decision ...



What colour is my hair?

Something else (please specify)



I love writing. So much. Eeee, only three more days of school, and then holidays. Holidays on which I can do lots of writing! I can't wait. Writing is love.

For the record, the early part of the Joshua Tree had the most awesome setlists, and yes, a show exists during which 40 was played and did NOT close the set. It ended the main set and Trip Through Your Wires and Southern Man made up the encore. Also, People Get Ready closed one show. Yeah, of all songs!